Al Ahly Sabbour Inks a New Strategic Partnership with The MarQ Communities for The City of Odyssia in Mostakbal City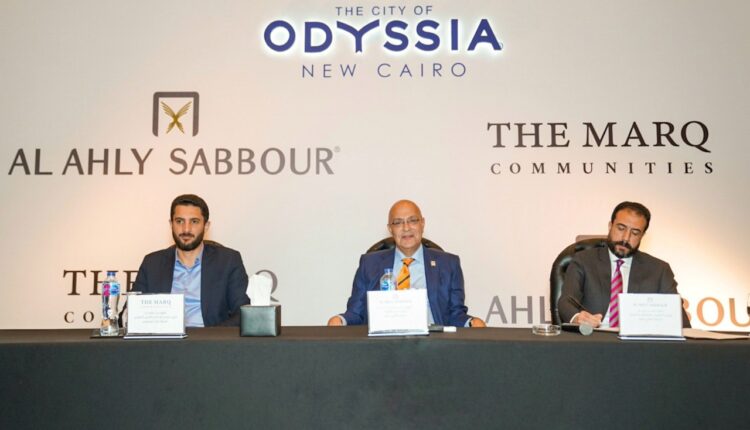 Al Ahly Sabbour, is the leading real estate developer in Egypt & the Middle East, and the largest developer in Mostakbal City with three mega projects occupying over 708 acres, namely the City of Odyssia (+528 acres), Green Square (80 acres) and L'Avenir (+100 acres), announced today that it signed a new strategic partnership with the MARQ communities, for the development of 260 acres of the total area of the City of Odyssia. The new partnership aims to offer diversified product offerings and accelerate construction process of the City of Odyssia, the largest and most integrated urban community spanning over 528 acres in the heart of Mostakbal City, with total investments of EGP 29 billion. The project is co-developed with Al Mostakbal Urban Development, and is projected to reshape the future of the whole area, because of its prime location in front of the Canadian University, connecting Mostakbal City with New Cairo and the 5 minutes from New Administrative Capital.
Through the City of Odyssia, Al Ahly Sabbour aims to introduce a unique model of fully-integrated contemporary urban community, which caters to the various needs of its residents, while offering them the utmost level of luxury and convenience. The City of Odyssia will be a new edifice of community and a unique lifestyle, which combines all elements to provide serenity to all residents and visitors alike. The diversified designs, which relies on the highest global standards of architecture and construction, introduces ideal atmosphere of integrated contemporary living experience. This dream-like living experience relies on the company's +28 years expertise aiming to create this iconic community in Mostakbal City, with breathtaking designs characterized by authenticity and modernity under one roof.
Speaking of the new partnership, Eng. Ahmed Sabbour, Chairman & Managing Director Al Ahly Sabbour, said that the local real estate market is experiencing rapid developments and fierce competition among different players. These new updates encouraged us to think out of the box, by adopting different visions to achieve our strategic goals, and enter into strategic partnerships with our success partners, who are expected to create new values for our projects, while empowering us to achieve excellence and market leadership. The new partnership aligns with the latest global, regional and local market updates, and leaning towards mergers and partnerships to accelerate construction and execution pace, particularly in mega projects. Sabbour added that Al Ahly Sabbour wanted to keep up with these trends by partnering with large and well-reputable local and regional players, to better serve our customer base and introduce excellent product offerings for the best ever living experience in favor of our residents.
Stemming from our profound belief that The City of Odyssia is the largest and most important project in Mostakbal City, we have this new strategic partnership with the MarQ Communities, one of the largest and reputable real estate developers in Egypt, which enjoys vast expertise in real estate market. The partner company is assigned the development of 260 acres of the project's total area of 528 acres, with an objective to add new values to residential and commercial units, help accelerate the execution pace, and offer the highest standards of luxury and convenience to all residents. Before taking the decision of this partnership, Al Ahly Sabbour has discussed every single detail and received assurances that the
project will be executed according to the highest possible standards to be the icon of integrated and luxurious living experience in the heart of Mostakbal City. This is exactly the reason why we partner with global entities, which offer us differentiated designs made by world-renowned architects in Egypt and internationally.
The City of Odyssia landscapes is mostly green areas & parks, a main boulevard on a total area of one kilometer, an integrated entertainment hub, international schools, international commercial promenade comprising restaurants, international brands and a media entertainment city for the first time in Mostakbal City.
Al Ahly Sabbour also announced that a CBD area will be developed by the MarQ Communities. It is a commercial, entertainment and office area aiming to provide residents and visitors with a services not limited to the City of Odyssia, as it will serve Mostakbal City and New Administrative Capital as well.
"We are very thrilled with this new partnership with Al Ahly Sabbour, the leading real estate developer in Egypt and the Middle East" said Amr Badr, the Chairman and CEO of The MarQ Communities. "Al Ahly Sabbour has a solid track record and a longstanding heritage in the market, and partnering with it is a big achievement for us. Al Ahly Sabbour's vision in selecting this prime location of the City of Odyssia, is unique and admirable, as this untapped area has a very promising future, which fits the leading positions of our two companies. The prime location and Al Ahly Sabbour's vision, have encouraged us to enter into this partnership, which combining our mutual willingness to offer differentiated real estate products to our respective customers. Since our inception, the MarQ Communities has a vision to offer exceptional products that is proportional with the purchasing power of the target audience, while adding new values to the local real estate market amid the fierce competition it witnesses"
Badr added that the MarQ Communities' scope of work comprising the development of 260 acres of the City of Odyssia, where we will be introducing a totally innovative products reflecting the high value of Al Ahly Sabbour and the MarQ Communities' brand names. The land plot under development will comprise a large residential compound and the CBD area for commercial and office buildings set to offer comprehensive services to residence and visitors.
From his side, Dr. Tamer Erfan, Deputy CEO OF Al Ahly Sabbour, stressed the importance of this partnership with the MarQ Communities, a reputable real estate company in Egypt with innovative ideas, and exceptional designs, representing a valuable addition to Al Ahly Sabbour. "This partnership falls under Al Ahly Sabbour's new strategy aiming to take advantage of the vast expertise of our esteemed partners, while maximizing the added value of new project and setting the City of Odyssia apart from other projects in Mostakbal City. The new partnership with The MarQ Communities will make the City of Odyssia the community of choice and the distinctive icon of Mostakbal City, particularly with the development of CBD area, which sets to serve the whole city and beyond"